The Margaret River culture is reflected in the hands-on education system used by the schools within the region. Alongside their academic priorities, the schools recognise the importance of incorporating environmental initiatives, creative arts and a healthy and active lifestyle within their teaching mechanisms.
Rapids Landing Primary School
Rapids Landing Primary School is an Independent public school that opened its doors at the beginning of the school year in 2018. The K-6 primary school caters to approximately 430 students, designed to ease the pressure on Margaret River Primary School, and further cement Rapids Landing as a leading residential estate in the region.

The school's facilities include twelve general classrooms, three early childhood classrooms, a library, an arts and crafts room, a covered assembly area, a music room, a dental therapy unit and a canteen.
The school is driven by the following motivation;
"Our core purpose is in educating our students and ensuring every student has the opportunity to be the best they can be".
Like their Facebook page to keep up to date with what the school is up to!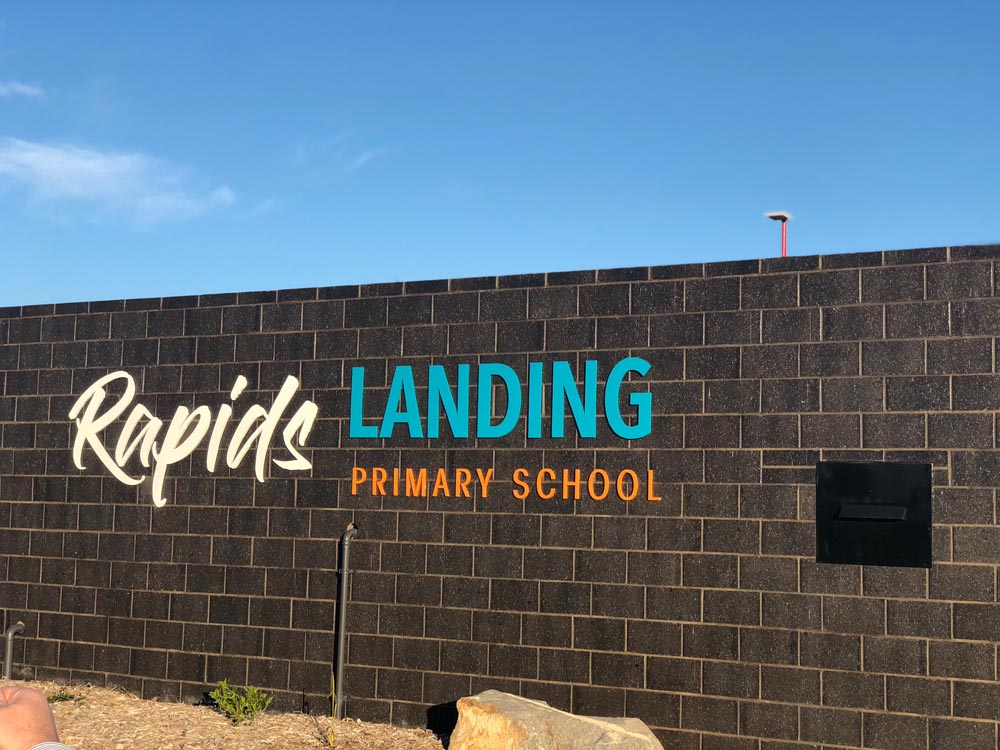 Margaret River Montessori School
Situated close to the town centre and surrounded by brilliant native bush, the Margaret River Montessori School is a part of the global Montessori system that delivers an outstanding and unique approach to child learning. The school's picturesque outlook is a charming setting for the educational program it delivers.
"Montessori classrooms provide a prepared environment where children are free to respond to their natural tendency to work. The children's innate passion for learning is encouraged by giving them opportunities to engage in spontaneous, purposeful activities with the guidance of a trained adult. Through their work, the children develop concentration and joyful self-discipline. Within a framework of order, the children progress at their own pace and rhythm, according to their individual capabilities."
Margaret River Primary School
Margaret River Primary School is a level 5 school where parents and the local community actively assist in school activities and are highly valued.
The school offers a wide range of learning experiences whilst emotional development is exercised, and a number of specialist areas that complement the core curriculum are promoted, including Music, Art, Indonesian, Media, and Outdoor Education.
The culture of Margaret River Primary School has evolved from the diverse community in which holistic lifestyles are practiced, alongside the surfing and sporting pursuits.
St Thomas More Catholic Primary School Margaret River
Founded in 1993, St Thomas More is a single stream Catholic School situated in Margaret River. Of current, the school has approximately 200 students enrolled from K-6. All Religious Denominations and Cultural Backgrounds are welcome and respected within the St Thomas More Catholic Primary School Community. The school uses the Catholic ethos of teaching children to care for each other and respecting the dignity of all.
"We are a community growing together in faith where children are offered opportunities to know and to love Jesus, to seek wisdom and to develop respect for the rights and dignity of all."
Margaret River Senior High School
Margaret River Senior High School is regularly placed among the "top performing regional schools" in WA, where it is recognised for its exceptional student achievement, as well as its strong music program. MRSHS follows the ethos that "The purpose of our school is to ensure that the academic, creative, social and personal potential of each student develops to the highest possible level."
MRSHS aims to achieve this through developing and displaying the following values and attributes:
Respect – for self, others and the environment
Honesty
Independence
Motivated students
Literate and Numerate students
Resilient and adaptable students
Students who aspire for excellence
Prepared to successfully participate in community membership, education/training and work engagement
Academic pursuits at MRSHS are led by a team of dedicated and experienced staff that encourage individual growth, and help students prepare for life in the world after school.
Margaret River Independent School
Margaret River Independent School began in 1982, working to help each student fulfil their potential. The School uses a small class structure to provide the attention each child requires to ensure scholastic achievement and self-development.
The belief behind Margaret River Independent School is that everyone is capable of learning in a safe and happy environment where everyone, including the families of pupils, is respected and welcomed.